Ty Webster, here is your beautiful Xbox 360 RGH Custom Themed Cummins Tribute. We started off With a Slim Xbox 360 and installed an Ace V3. chip in her. I put in a mountain of R.G.B. LED lights, its got more lights then a damn Christmas Tree. Now of course we installed a Big FAT 320 gigabyte drive custom themed your FSD Dash to remind you of work, lol. Of course used a modified timing file for a fast boot time, and she is up on Alliance servers with a 10 day trial of The Purge for GtaV.
Christy his wife sent me the photos of what she wanted for her husband, so we took them and vectorized them. I started with the Cummins logo but it was to plain so we added a little skull head with a turbocharger for an ear. Then we grabbed hold of the skull she sent me and I cleaned that all up including the crescent wrenches, and then proceeded to cut the mother out. I added LED's around the fan, in the fan and mounted pilots as well as main lights to the logos. What would be an Xbox 360 Rgh custom if you don't go all out?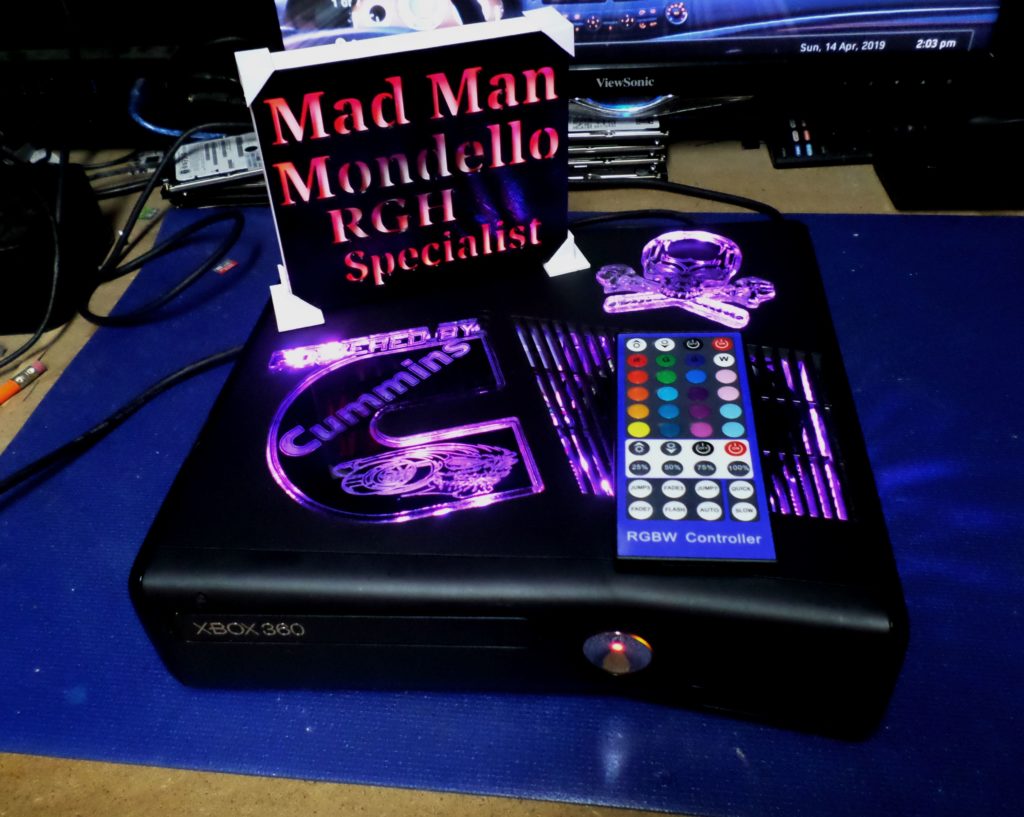 I then did a Custom Modded ROL for good measure, using multicolored blades and a red center. We did a red center for the fan and for the pilot LED's that surround the logo. In the end we have a beautiful custom themed slim one of a kind Xbox 360 RGH Custom. If you are interested in customizing something like this. Please visit our business page on facebook at https://www.facebook.com/TonyMondelloRGH/
The wrap up of Xbox 360 Rgh Custom
Christy and Ty, I want to thank you for your repeated business. It is always a pleasure doing work for you guys. I hope you both like what I done with this crazy thing. Ty your wife watched me build this thing step by step on messenger. You know what went into it and i just hope it pleases you both. We will be shipping her off tomorrow expect a tracking number by tomorrow evening.