Chris, Ok here is your Beautiful Custom Xbox 360 RGH. We started off with your send in. Now a little history, Chris did the RGH 1.2 himself. I give him an E for effort, he did a good Job it booted good, however next time please for the love of God glue down the chip to the video port so its not flying around. The video really explains it all right down to the Beer he sent me along with the dvd controller that in his words "Well i kinda got mixed up" lol. Which hey it is what it is. On to what we did for Chris.
The Beginning of building this Custom Xbox 360 RGH
Started with a Falcon 360 that Chris sent in, we reinstalled his Cool runner and rewired it. I then did a custom cut out for him, we used 5 mm plexiglass for the logo and we etched and cut it out and installed it on 1 mm clear plexiglass. We installed an RGBW IR controller with RGB LED's and we used white for the pilot lights. The drive was no good so we repaired the drive replacing the main drive pulley and gear, we replaced the belt aligned and cleaned the laser. Flashed the drive with Ltu firmware to enable being able to read his burned backed up games. I took his 1 terabyte drive and loaded it with all the tools it could handle. We custom modded his ROL with white blades and a slow color changing LED for the center. It is now up on Alliance Servers.
The End Result:
A Gorgeous Xbox Custom 360 RGH that I enjoyed building for an old friend. Chris thank you for letting me build this for you, and it was a lot of fun I enjoyed every minute. Not to mention, the Beer you sent me too. Thank you again so much and we will be shipping her off tomorrow. Lorraine will have a tracking number for you by tomorrow evening.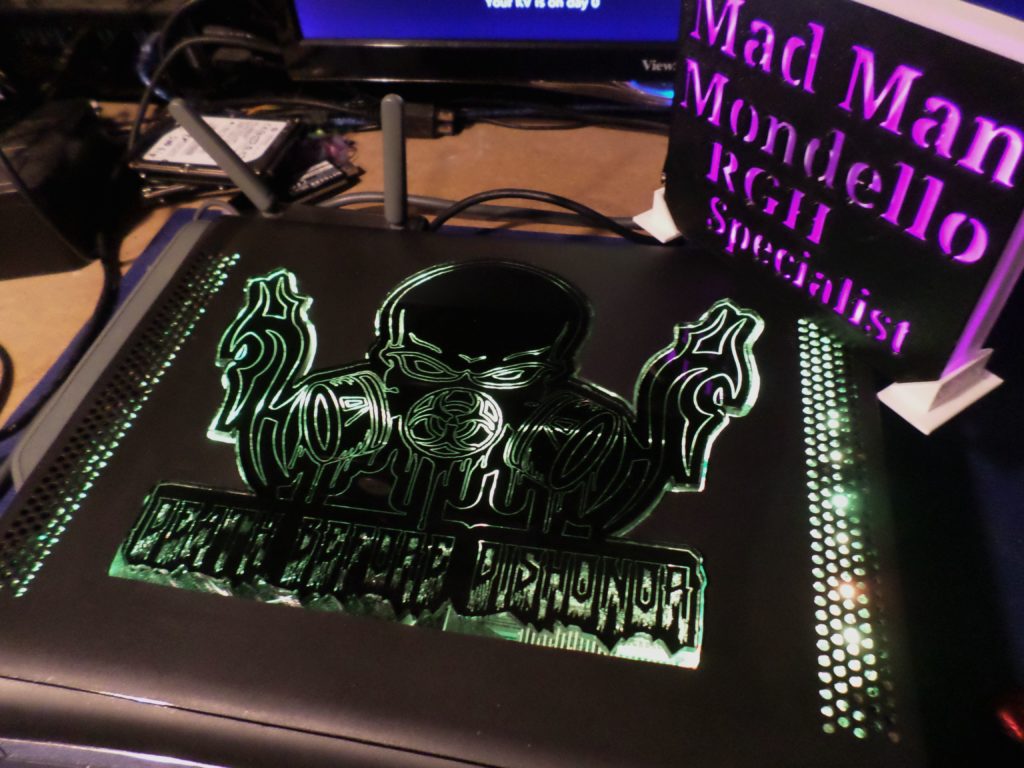 Enjoy your New Xbox Custom 360 RGH.