John, here is your AMAZING beautiful Xbox 360 Custom Demon Dual Nand. We started off with a Jasper small block Xbox 360. Then installed the Demon Dual Nand with a Cool Runner Rev. C. chip and a modified Rgh 1.2 timing file.
Software Side:
Read the original nand, used the nands cpu key and dvd key. That was the extent of messing with the original nand. Then we used a donor nand from a dead console and patched your dvd key into it and built the nand from scratch. I did this to make sure the retail could never get exposed therefore banning the retail side. We installed a 500 gigabyte hard drive in the unit, fully loaded with Lifetime Purge Menu and of course up on Alliance Servers.
The Etching:
Inspired from the Modern Warfare 3 Series, Myself and John came up with this. We designed it together on my CAD program. It took us about 6 hours to design it. Once it was done and we were both pleased with it, I went ahead and sent it to our In House Laser CNC machine. I went ahead and began the process of cutting the logo out. Once we cut it out. I then sent the case and converted the Vector drawing to g-code. Then our in house CNC milling machine cut the console shell out to accommodate the logo.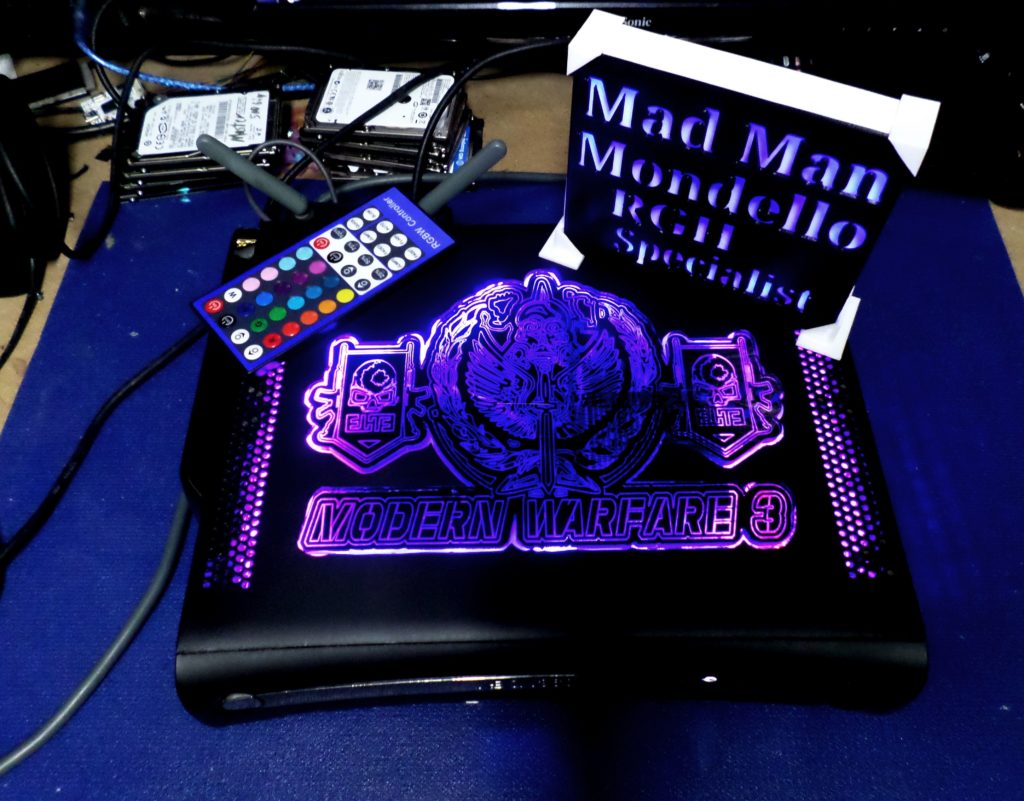 The Lighting:
For the LED's we used 50/50 LED strips 3 color RGB. I also had a 4th channel for Pilot lights which we used purple and blue. We installed the RGBW remote control board and placed it ont he motherboard. We drew the 12 volt power from the motherboard and used the Xbox 360's onboard IR to receive the remotes responses to control the lighting.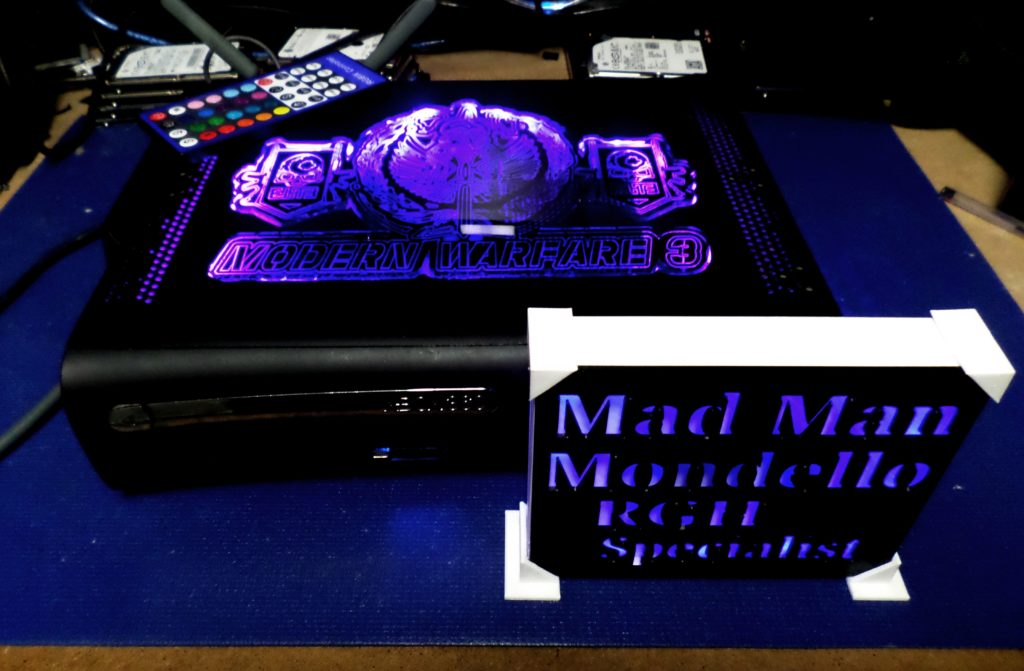 The Wrap up:
The ending product one Amazing Beautiful Xbox 360 Custom Demon Dual Nand, including wireless adapter controller and power supply. Myself and John had fun designing this thing as well as him participating in actually design of the logo, he is a Tattoo Artist. He watched every step so he knows exactly what is on the inside as well as the outside. He watched me build it through Facebook Messenger. The system is done and we will be shipping her out on Monday and you will receive a tracking number by Monday Evening. Thank you so much for your Repeated business brother. I had a lot of fun building this with you. It made the 18 or 19 hrs building it fly by. Enjoy your Xbox 360 Custom Demon Dual Nand Console.