The Guts:
"Behind the 8-Ball" is a beautiful Custom built Xbox Dual Nand RGH Console, brought to direct from the Gardendale Garage. The unit is a small block nand fitted with a Demon Dual Nand Device. I Installed a Cool Runner Rev. C. Chip and used a modified timing file with RGH 1.2 method, because I wanted boot times under 5 seconds. The Console includes a 250 gigabyte hard drive and is fully loaded of course.
Effective upon purchase the system will come with a 3 month part and labor warranty. This system is a turnkey unit and includes everything needed to get up and running.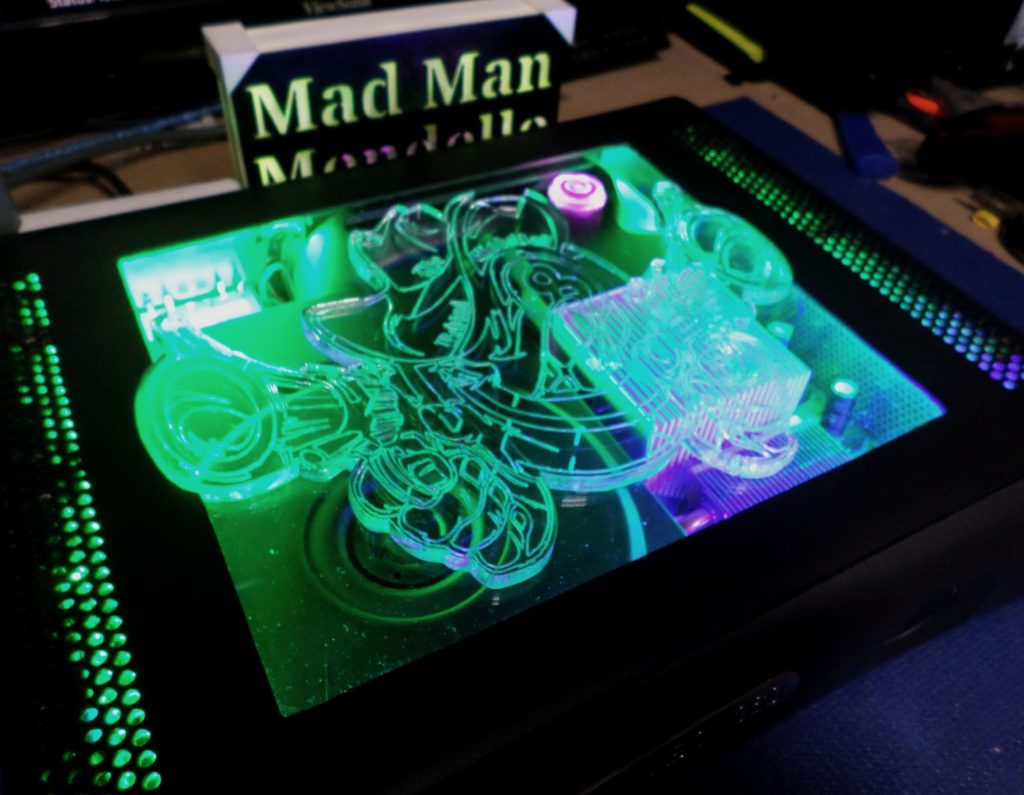 The Looks:
The Case is black base with custom plexiglass etchings. We used 1mm for the back plate, 5mm for the Eight ball and 5mm for the gun wielding main character. I cut all the plexiglass with our in house laser CNC machine so I can insure quality control at all levels of the build itself. Additionally, I went a step further and cut the air tube out to accomodate installing an 8-ball image under the main base plate glass.
Since a custom Xbox wouldn't be complete without case LEDs, I installed custom LED lighting using 50/50 leds for their brightness – bright enough to burn the corneas of your eyes. I have blue LEDs up towards the front of the console and green for the sides, with pink LEDs in the air tube tunnel. I tied the modified ROL in with blue blades and pink center LED.
Update: Eight ball sold Today!
Well guys and gals, this console sold in one day. Mr Nicholas Mann Purchased this unit for a friend of his Shane Springer. It is to my understanding Nicholas wanted to give him something special, well he did. This beautiful Demon Dual Nand console known as Behind the Eightball. Happy Birthday Shane! Nick, CAN I BE YOUR FRIEND TOO all i want is a Porsche!!! Please be my friend LOL. Anyways Shipping her out today!
Wrapping her up:
Just having one raised 5mm etching was not enough. I wanted it to stand out, so as you can see in the air tube we etched a 5mm 8-ball and then used 1mm for the back plate and bonded them together. In effect I wanted to give the unit a layered look that would make both pieces of the case cutout stand out.
Shes Been Adopted!
If you are interested in purchasing this unit please message us on our facebook business page, located here at https://www.facebook.com/TonyMondelloRGH/ This is a one of a kind and will never again be reproduced by me. I have spent 20 hours building this unit to ensure quality as I do with all my builds.
Thanks so much for taking the time to view this beautiful Custom Xbox RGH Console.