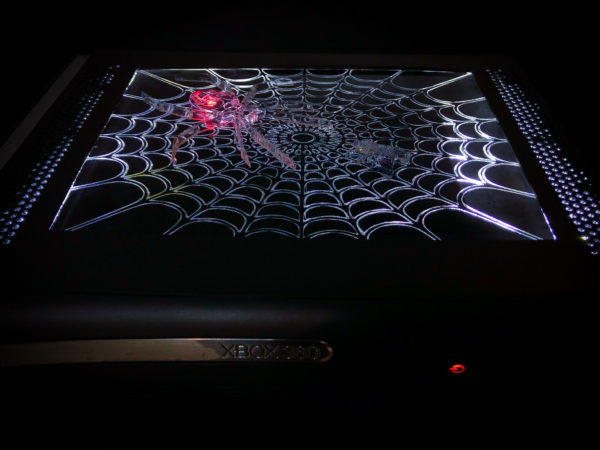 Custom Engraved Console Case Cuts
Tell Tony what you want engraved on your custom Xbox console! Choose one of the above options – only $85 for the case cuts (details below) and your custom engraving. Upon receiving your order, Tony will be in touch with you to find out what design you have in mind for your custom cutout.
Make your case cuts stand out by adding an LED option as well from the Single and Remote LEDs product page!
$85.00
Description
Custom Engraved Console Case Cuts
Be prepared to send Tony a photo or image of your choice, black and white, line art only, that you want the cutout based on. If you get it off google images, just add "svg" or "vector" to the search term. Highly detailed photos are not as conducive for engraving, so when finding artwork remember: simple is best.
Don't forget to make your case cuts stand out with LEDs! More information is on the Single and Remote LEDs product page.
Line engraving
Raised engraving (3D)
Color-cut engraving (clear line art cut into a solid color plexi)
Cutouts can be a custom shape, or a full square broadside plexi with your engraving etched in the plexi
Cutout options for Phat consoles
Custom engraved cut, broadside, full square, or…
Custom shaped cutout with engraved plexi.
Cutout options for Slim consoles
Hdd and Dvd cutouts, both engraved with your choice of design
Includes an engraved design of your choice (you provide the artwork, Tony will handle pre-processing and engraving). Some images work better than others; engraving looks best with line art (black/white sketches, as supposed to highly detailed photos).
Combined with LEDS:
Phats
Your choice of up to 2 colors for the two opposing perimeter edge vents
LEDs set behind the plexi cutout
Slims
Fan Wrap LEDs, your choice of LED type/color
Your choice of up to 2 LED options behind both Hdd and Dvd cutouts
Only logged in customers who have purchased this product may leave a review.