Well here we go,
Our Mame Arcade Update. In between building RGH's, We have had some progress on our Mame system. I went ahead and purchased 2 8bitdo Game pads, to go along with our analog joysticks. After a brief moment of wanting to commit suicide while setting up the configuration files, and my eyeballs burning out of my head after going through the Wiki. I finally got it working correctly.
Mame Arcade = Can be a Pain!
I still have to set some more hot keys up to make our Mame Arcade more user friendly. But just wanted to pass on the update as my inbox has been blowing up asking when can i purchase this. As I have said before once I get all the bugs worked out, and actually sit down and go over the costs, I am going to try and streamline a version that is not going to be a mortgage payment. It's no good if it costs out the wazoo.
Also this one is going to be my personal one, and it is getting laser etched glass, remote LED'S, the whole nine yards as well as getting a built in Xbox One S, Xbox 360 RGH , and hopefully – if I can fit it – my modded PS4 sitting on 5.05.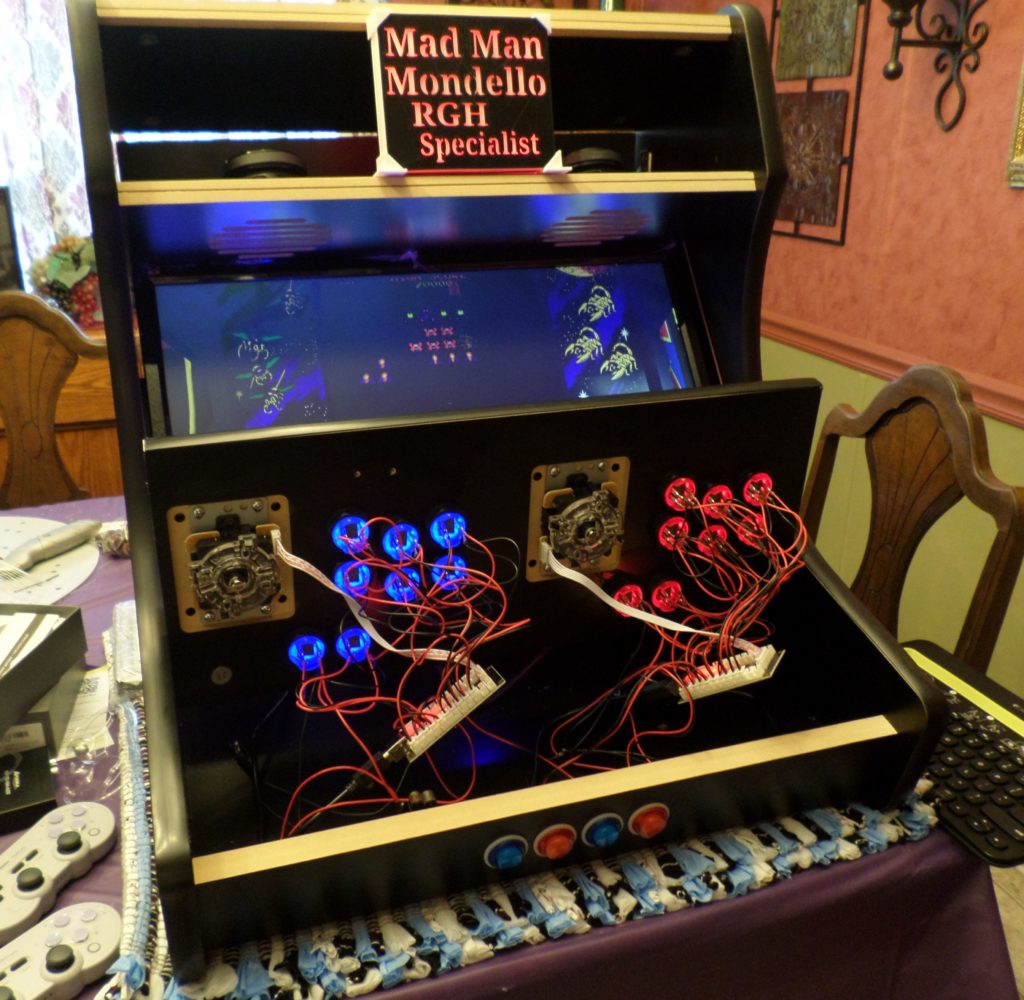 Wiring this Mame Arcade nearly sent me to the funny farm
I am going to build a charging station for it for the game pads and build it into the cabinet. Yes this was so much fun Talk about Wiring Management "FOR THE HATERS, NO THIS IS NOT DONE YET SO SHUT UP IDIOTS Lmao". I had to put that in there, "Because of little Smart ass's that just love to pick and blow their ego up, like it matters in there insignificant little existences THEY KNOW WHO THEY ARE LOL".
As you can see a lot of wiring – but what good is a Mame station without analog controllers? There is going to be a lot of work to be done still, but thought I would share this with you all, Like I said my inbox is blowing up because of this thing.
The new Pi4 to the left, & the trusty Pi3B+ to the right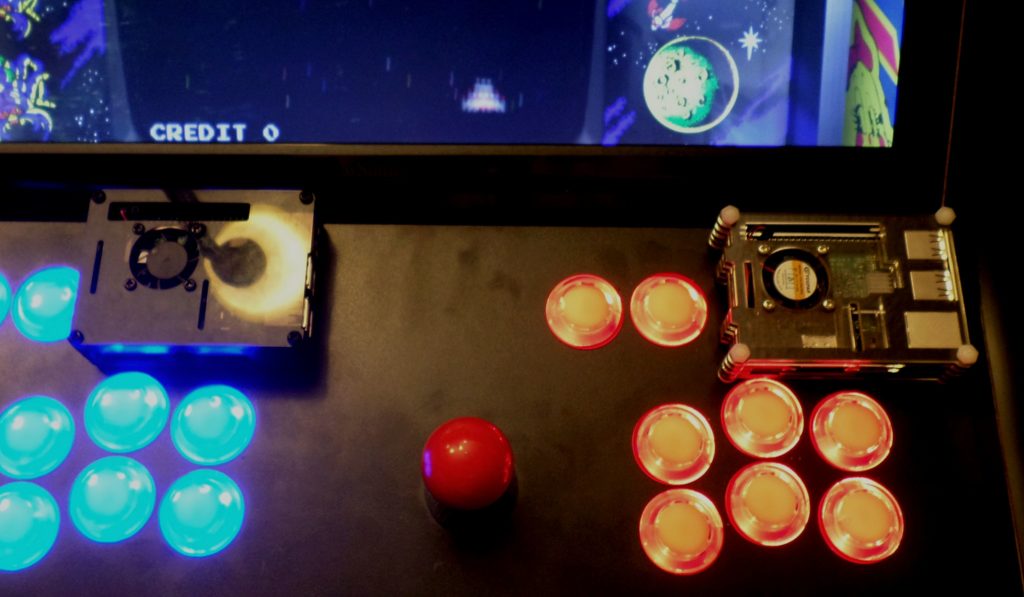 Above to our left is the newest edition to the group that is powering this unit. Specs for both models are below:
Specifications For the Pi4
Broadcom BCM2711, Quad core Cortex-A72 (ARM v8) 64-bit SoC @ 1.5GHz
1GB, 2GB or 4GB LPDDR4-2400 SDRAM (depending on model)
2.4 GHz and 5.0 GHz IEEE 802.11ac wireless, Bluetooth 5.0, BLE
Gigabit Ethernet
2 USB 3.0 ports; 2 USB 2.0 ports.
Raspberry Pi standard 40 pin GPIO header (fully backwards compatible with previous boards)
2 × micro-HDMI ports (up to 4kp60 supported)
2-lane MIPI DSI display port
2-lane MIPI CSI camera port
4-pole stereo audio and composite video port
H.265 (4kp60 decode), H264 (1080p60 decode, 1080p30 encode)
OpenGL ES 3.0 graphics
Micro-SD card slot for loading operating system and data storage
5V DC via USB-C connector (minimum 3A*)
5V DC via GPIO header (minimum 3A*)
Power over Ethernet (PoE) enabled (requires separate PoE HAT)
Raspberry Pi 3B+ specifications
SoC: Broadcom BCM2837B0 quad-core A53 (ARMv8) 64-bit @ 1.4GHz
GPU: Broadcom Videocore-IV
RAM: 1GB LPDDR2 SDRAM
Networking: Gigabit Ethernet (via USB channel), 2.4GHz and 5GHz 802.11b/g/n/ac Wi-Fi
Bluetooth: Bluetooth 4.2, Bluetooth Low Energy (BLE)
Storage: Micro-SD
GPIO: 40-pin GPIO header, populated
Ports: HDMI, 3.5mm analogue audio-video jack, 4x USB 2.0, Ethernet, Camera Serial Interface (CSI), Display Serial Interface (DSI)
Dimensions: 82mm x 56mm x 19.5mm, 50g


What puzzle's me is it has been around for a long time. Its nothing like super new but I guess people love retro Whats old is what is new. What is going to be really nice is if I just build a burn your hair off super hypo gaming rig and put it in there. That way you can play anything you want from Atari 2600 to VR-Ready games.
Perhaps I will build something with a good old Amd 2700X Processor and a Rog Strix Graphics card, like I did for Pat Leberte's build. I want it to be able to play everything so probably will go with gddr5 flavor video memory perhaps 8 gig for the video ram should suffice. The trick of course is keeping the price down. When buying something like that yes we want power but also at what cost? I think I will leave that up to the customer.
Mame Arcade
It is very hard to believe that all of this can run on a credit card sized computer. Utterly amazing, and to think these machines were being sold to arcade owners some as high as 10 grand back in the day. Now we can relive our glory years on a simple single little tiny computer and have as many of our favorites as we want. Hey, money is nothing without fun – and I am having fun! Well having fun as you can see with our Mame Arcade Update.
If you guys want more information on this subject , feel free to hit me up on our Facebook business page https://www.facebook.com/TonyMondelloRGH/ You all have a great day, Back to the grind for me.