Bryan, here is your sexy new Demon Dual Nand Xbox 360 modded RGH. I have installed a Demon Chip with a Cool Runner Rev. c chip. Programmed using the RGH 1.2 method, she boots in under 4 seconds every time – just as fast as a retail.
Installing a modded donor dual nand
In modding this console, I decided to give her a donor nand – this involved retrieving the CPU and DVD key from the original nand, then building the hacked image from scratch utilizing the advanced commands in j-runner. This ensures that the original nand is never at risk of being exposed or having a chance of getting banned.
Finally, I wrote the nand to the demon chip, and away we went. The demon chip allows you to switch between the hacked image and the retail image at will – this provides the best of both worlds, making this console the equivalent to having both a retail Xbox and a modded RGH both in the same sexy custom case. Since I patched the DVD key to the new nand I built for her, the disc drive will read with no issues both in hacked mode and retail mode.
Custom case cuts and curves…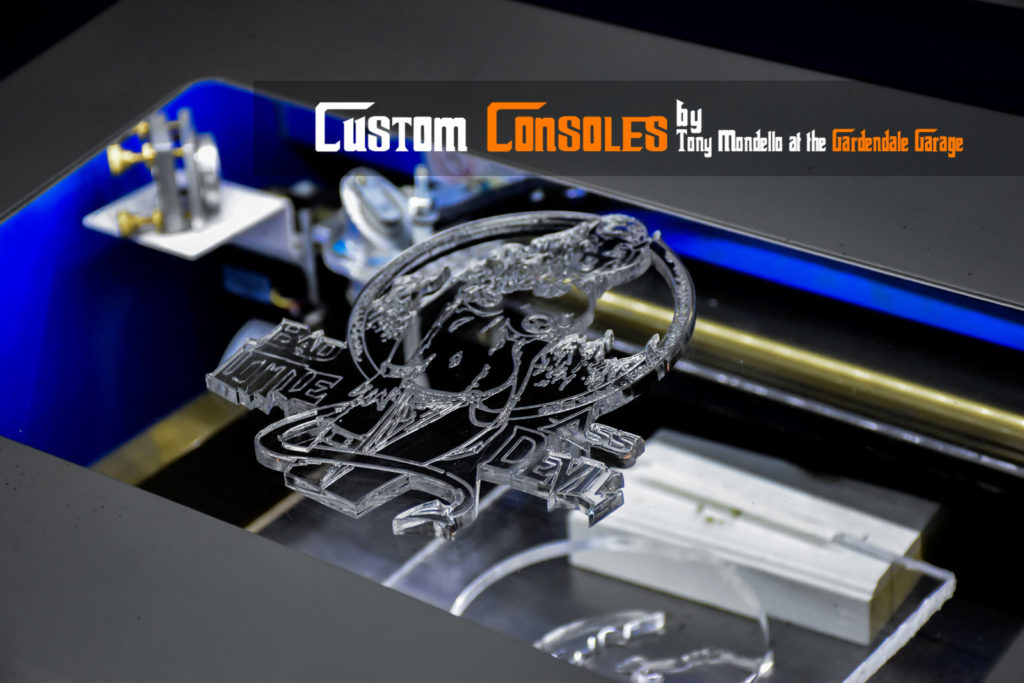 Speaking of sexy…I went a little further and decided to do a custom raised laser etched 3D logo for you. I used a cute little devil girl with a circle of fire – of course she has a devil tail, and might I add, a sexy one at that. She is cut out of 5mm plexiglass for extra definition, with 1mm plexiglass for the backing.
I then cut out the outline of the design and added the white and red custom case LEDS. She also has a modded ROL with red blade LEDs and a white center.
The end result: a seriously BAD ASS custom dual nand Xbox 360 RGH one-of-a-kind console that is all yours.
Epilogue I
Bryan, you have been a good friend of mine since 2014, from the first console you sent me to repair, to the other five I have built for you. You have always had my back on everything. You have taken care of my discord and the countless questions people throw at you and our team on discord. I just want to thank you. I hope you enjoy your new Dual Nand Demon Xbox 360 RGH.
Epilogue II
We will be shipping the console out tomorrow!